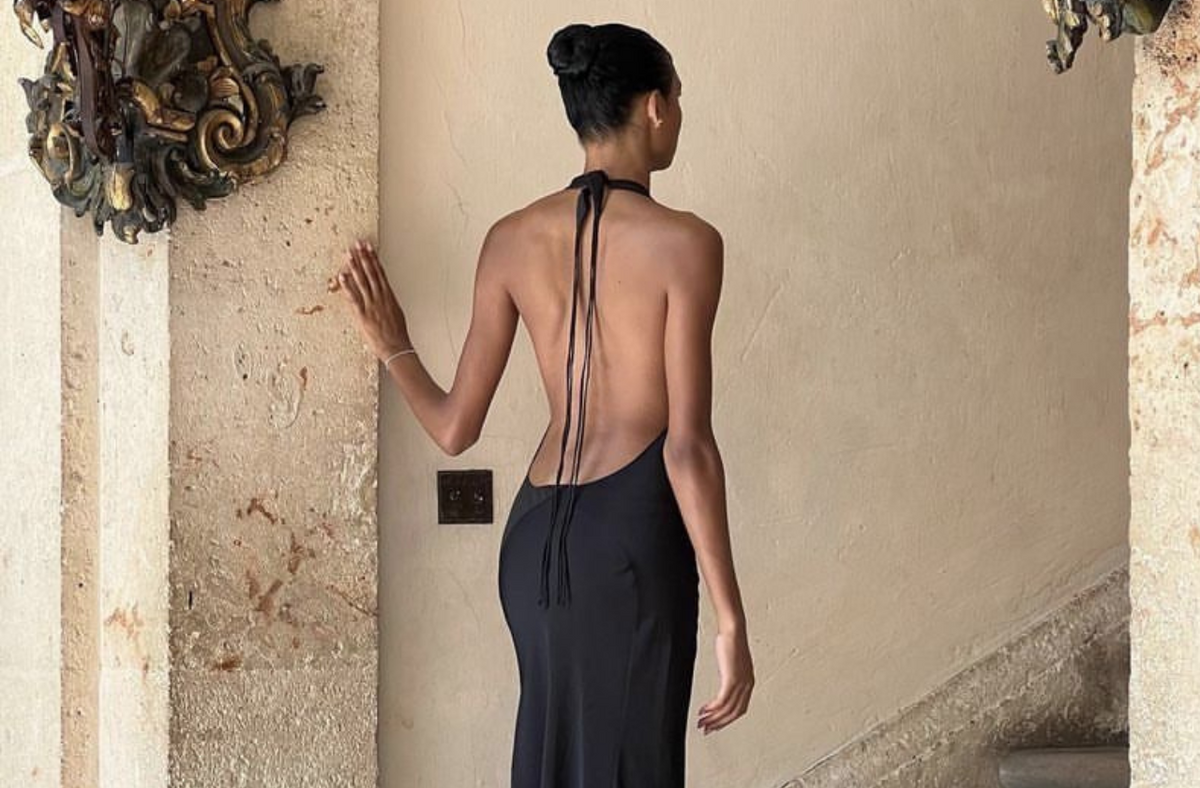 9 Bras For Low Back Dresses That Won't Peak Out
Nothing is more annoying than having your bra show when you're wearing a low back dress. It looks weird and it just takes away from the sexiness of sowing off your back! 
I did some research to find some of the best bras for low back dresses that will have you looking cute, confident, and comfortable.
9 Bras For Low Back Dress
1. sealsea Womens Low Back Bra
One customer said, "These bras are the best for a backless dress runs a little small in the breast area but perfect fit." Another customer said, "I have tried probably 30 different bras that will not show when worn with my wedding dress...and this is perfect! My dress is backless except for a knotted band across the middle. This bra is indeed for backless or low-back garments. " 
Amazon
2. b.tempt'd by Wacoal Future Foundation Backless Strapless Bra
If you are looking for something more structured and supportive, this is a good choice. Looking for more dresses? Check out these petite sweater dresses that are perfect for fall/winter.
Bloomingdales
3. Low Back Bra Converter
Don't feel like buying an entirely new bra? Get this low back converter from Bare Necessities that will lower the back bands of your current bra. It's only $9!! Someone said, "Needed a low back bra and couldn't find one. Found this. It worked like a charm."
Bare Necessities
4. Nubra Silicone 3D Bra Cups
This is a best-seller and for good reason. Nu Bra was one of the first brands to introduce sticky bras to the market. These are so comfortable, especially if you have smaller breasts. You can also use it for strapless dresses! One customer said, "The most natural looking and comfortable sticky bra out there!"
Bloomingdales
5. PowerConceal™ Backless Shape Bodysuit
This bodysuit is perfect for supporting your top, holding in your tummy,  lifting your butt  and smooths your upper thighs! It's really perfect for any outfit you decide to wear. One customer said, "This bodysuit is so cute that I can wear it as a shirt with my favorite jeans or skirt. I love the open area in the back. The size chart was super helpful and selecting the right size and I feel crazy confident rocking this look with backless dress." In need of low back dresses? Check out these dresses for vegas that will turn heads.
Shapellx
6. Masitt Coty Adhesive Strapless Bra Pasties
This comes wit 2 adhesive bras and a pair of nipple pads just for $15! Someone left a review and said, "This adhesive bra worked perfectly under my backless summer dress. I am not comfortable going without a bra and these solved my problem. The adhesive was great and easy to clean. Loved that it came in 2 different colors and with the extra nip covers." 
Amazon
7. Suit Your Fancy Plunge Low-Back Mid-Thigh Bodysuit
You can always count on Spanx to cover your undergarment needs. This not only acts as a bra but  doubles down as shape-wear to cinch everything in. One customer left a review and said, "I bought this to wear underneath a ball gown with a back cutout to the waist. It fits perfectly. and gives great support while not interfering with the dress, smooths out the torso and feels extremely comfortable while still doing all the jobs it needs to do. I feel very secure when dancing. I have never been so pleased with an undergarment before." Do you have an hourglass figure? Check out these dresses that are perfect for hourglass figures!
Spanx
8. Nippies Nipple Cover - Sticky Adhesive Silicone Nipple Pasties
If you're trying to go the simple route and use nipple pads, these are a best-seller on Amazon. 20K + bought in just this past month. These can pretty much be worn with almost anything - dresses, t-shirts, blouses, tube tops, v neck tops, etc. One customer said, "These work wonderfully for tops and dresses where a bra just doesn't work. Or for the days you don't want to wear a bra but want your nipples covered." I've bought these and can tell you they last longer than any of the other cheaper ones you see on Amazon. Worth the price!
Amazon
9. VICTORIA'S SECRET BARE
Customers are raving about how this was perfect for their low back dresses. You can also wear this with a plunge/low cut front dress! Kill two birds with one stone.
Victoria's Secret
Bra Options For Low Back Dresses
When it comes to bras for low back dresses, you've got a ton of options to explore. It really boils down to what you're after and your unique body type.
Let's kick things off with convertible bras. These transform your regular bra into a low back solution with an adjustable extender. You attach it to your bra closure in the back and pull the straps down. 
Adhesive bras are also a great option because it feels like skin, giving you the lift and shape you desire without those annoying straps or bands stealing the show. A perfect match for nailing that effortlessly chic low back dress look.
Nipple pads, also known as silicone breast petals, are your trusty sidekicks. They're like the fashion world's secret agents. Just slap 'em on, and they'll shield and safeguard your nipples, ensuring a polished and confident look, even when donning daring V-necks or backless gowns.
With convertible bras, adhesive bras, and nipple pads in your wardrobe you can rock a low-back dress with ease.
Different Types of Low Back Dresses
There are a lot of dress styles that offer a low back moment. The main challenge here is finding a bra that stays concealed while offering adequate support.
Halter neck dresses are known for their high neckline and straps that tie or fasten behind the neck. These dresses often leave the back open or have a low back, which can make it tricky to hide a traditional bra strap.
Crisscross dresses have intricate strap patterns on the back, often forming an X or cross shape. These designs can be stunning but require bras that won't disrupt the intricate back detailing.
Deep V-neck dresses have a plunging neckline that extends down the front, and they might have a low back as well. Choosing a bra that provides support without peeking out from the V-neck can be a challenge.
Each of these low back dress styles offers a unique look but presents its own set of challenges when it comes to bras. The key is to consider the dress's design and neckline when selecting a suitable bra or opting for braless solutions like adhesive bras or nipple pads to maintain a seamless and confident appearance.
RECOMMENDED BLOG POSTS
What are you waiting for? Go by that low back dress you've been eyeing, and pair it with one of these bra options above! If you loved this read, check out these bras for square neck tops