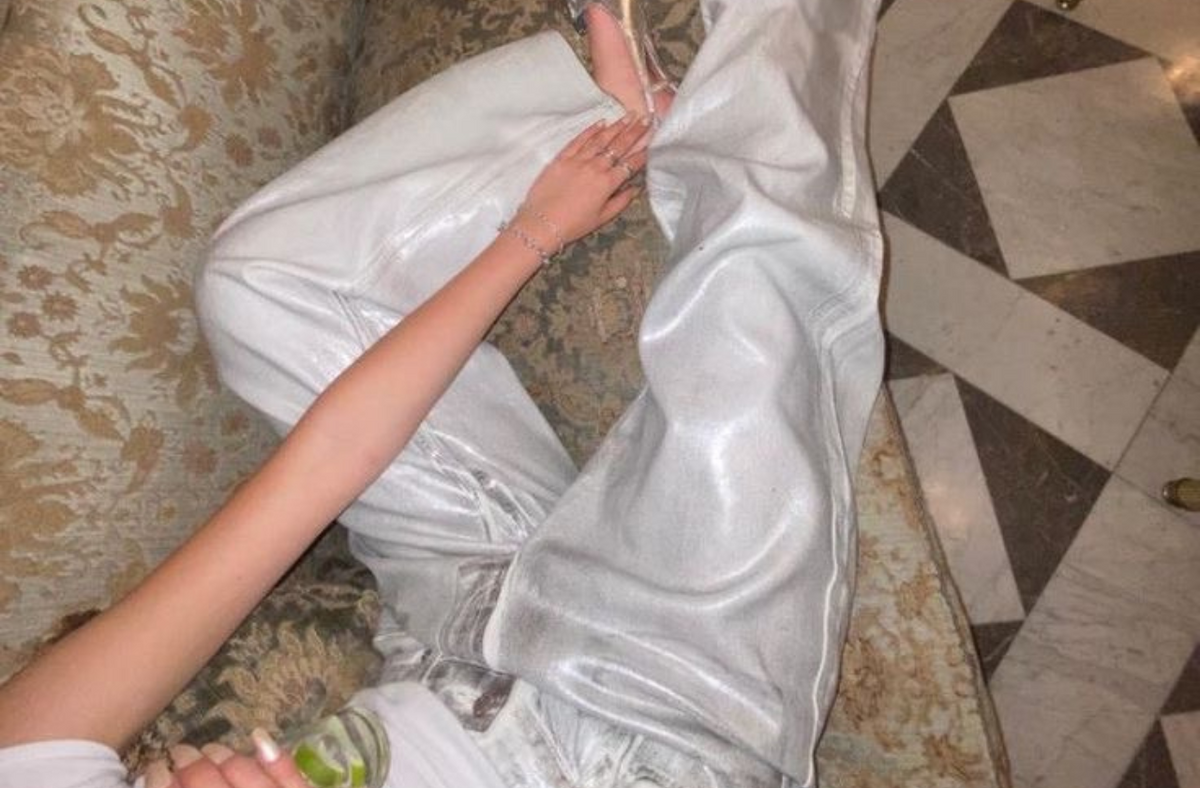 The 11 Best Metallic Jeans I Could Find - Starting at $69 (2023)
INTRODUCTION
Metallic jeans have made it's comeback in the recent months and we don't blame anyone. 
Despite their radiant appearance, these jeans are surprisingly versatile, suitable for a casual lunch and a fancy dinner. 
I think what sets them apart from other denim jeans is that they have this unique and edgey look to them. I don't know about you, but when I see someone wearing silver metallic jeans on the street, I automatically think they have cool style. And whether it's warm or cold outside, metallic jeans can be worn all year round.
Going through my search to find metallic jeans was surprisingly difficult considering how much demand there is for them. They're either sold out, not cute, claimed as being metallic when they're really just grey, or the quality is not good.
 So, I decided to compile the best silver metallic jeans I could find below. I hope you like them!
11 Best Metallic Jeans in 2023
1. Abercrombie High Rise 90s Relaxed Jean
Abercrombie
Abercrombie denim is where its at. Love their stuff and it's relatively affordable with their discount codes.
2. Reformation Cynthia High Rise Coated Straight Jeans
Reformation
Who knew a pink sweater would match so perfectly with metallic denim. 
3. MANGO Metallic straight-leg jeans
MANGO
MANGO is just a higher end version of ZARA with better quality and customer service. 
4. Pull & Bear STRAIGHT FIT METALLIC JEANS
Pull & Bear 
Oh wow love this. And only $69!! 
5. ZARA Z1975 MID RISE STRAIGHT CUT METALLIC JEANS
ZARA
I feel like Zara started the metallic jean trend. These are usually always sold out, but keep checking because they do restock often.
6. MESHKI MINNIE Metallic Straight Jean - Silver
Meshki
This also comes in a metallic pink color!!
7.Edikted Women's Jolene Metallic Low Rise Jeans
Macy's
Macy's now sells Edikted? Weird flex, but ok. These look really cute and they're on sale
8. Stradivarius LOW-CUT STRAIGHT FIT METALLIC JEANS
Stradivarious
For all my low rise jean lovers, these are perfect. I've never shopped from here, but I always see influencers doing cool campaigns with them. Their other products also look really nice and lux at a very reasonable price. Also comes in a gold metallic color. 
9. rabanne METALLIC JEANS
Marissa Collections
I love this boutique. I got my engagement dress from here and they shipped really fast.Customer service was also really good.
10. Superdown Regina Metallic Jean
REVOLVE
A more affordable pair of silver metallic jeans from REVOLVE. These are also more fitted if that's what you're looking for
11. Free People Moxie Low Slung Pull On
REVOLVE
A more affordable pair of silver metallic jeans from REVOLVE. These are also loose and baggy if that's what you're looking for
RELATED BLOG POSTS
We hope this blog post helped you find the perfect silver metallic jeans  you were looking for. There are so many ways to style metallic jeans, in particular silver metallic. 
Here are my favorite ways to style them: 
Simple is the way to go: metallic silver jeans are already attention-grabbing, so it's a good idea to keep the rest of your outfit simple. Go for a solid color top and neutral accessories to balance the look.
All silver fit: create a chic monochromatic outfit by pairing your silver jeans with a silver or gray top. This creates a sleek and modern appearance.
White T-shirt: a classic white button-down shirt can look great with silver jeans. Tuck it in for a polished look or leave it untucked for a more relaxed vibe. Pair with pointed heels.
Black Top: Black pairs beautifully with metallic silver. Consider a black blouse, sweater. Look at the silver metallic Meshki jeans for reference. 
Denim Jacket: a denim jacket will  work well with silver jeans. It adds a touch of casual flair to the metallic finish.
Printed/Graphic Tops: go for a printed tops, like striped or floral, to add some visual interest to your outfit. Just make sure the print complements the metallic silver.
Shoes/Heels: choose heels that complements your outfit. White, black, or silver would be a great match. White sneakers or black ankle boots work well for a more casual look.
Accessories: keep accessories minimal to let the jeans shine. A simple pendant necklace, bottegga earrings, or a sleek belt can enhance the overall look without overwhelming it.
Layering: consider layering with a blazer or a cardigan for a more sophisticated look. A black blazer, in particular, can create a sharp contrast with silver jeans.
Confidence: last but not least, the key to pulling off metallic silver jeans is confidence. Embrace the boldness of your choice and wear it with self-assuredness.
I hope this blog post helped get you one step closer to your metallic jeans. Make sure to check out these wide leg jeans for petites