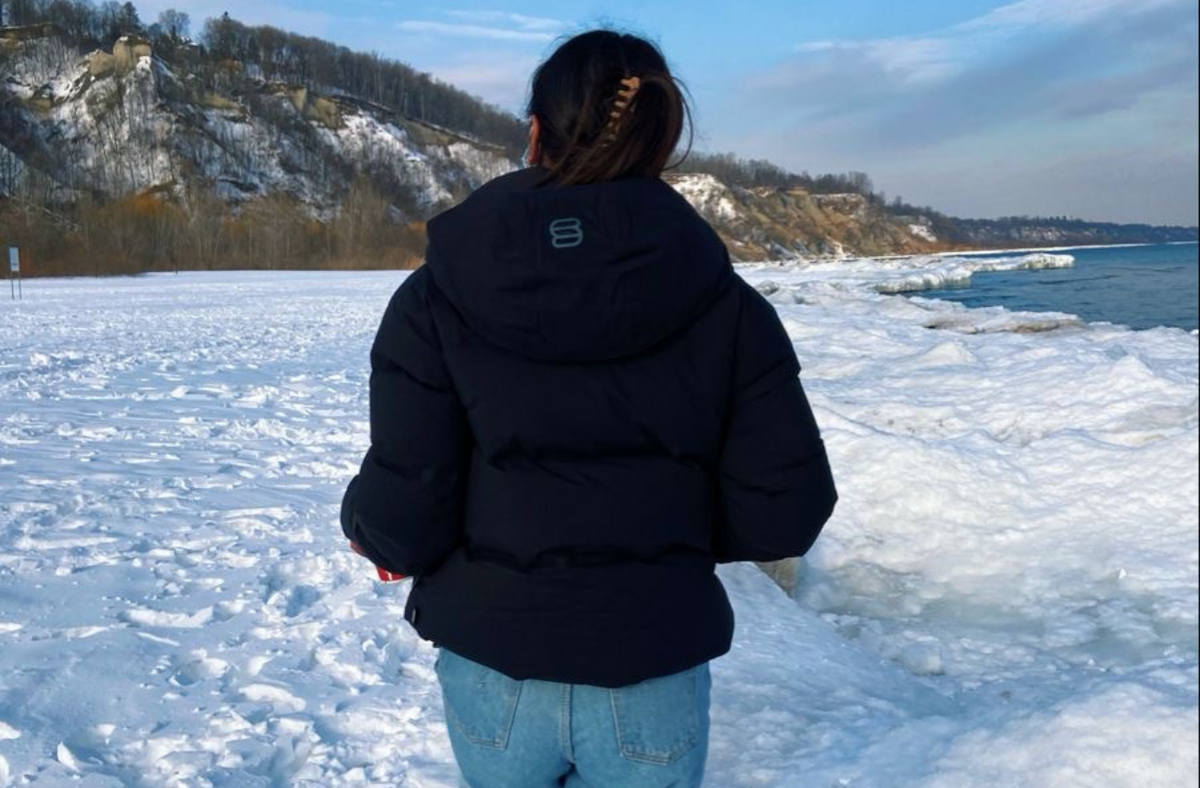 9 Womens Heated Jackets That Are Lightweight & Will Keep You Warm
You're probably hear because you are looking for a heated jacket that not only keeps you warm, but also looks good.
The seasons are changing, the temperature is dropping which means the heated jackets gotta come out! We have sourced some of the best women's heated jackets that are affordable and cute. Lets get into it.
9 Womens Heated Jacket
1. DEWBU Heated Jacket for Women with 12V Battery Pack
400+ people have bought this in the past month! One customer left a reveiw and said, "I like that I am warm enough to maintain my temperature but not sweating. The jacket itself is surprisingly comfortable and nice it's really a quality jacket. I work overnights at at hospital (in the pharmacy) but everywhere is cold for me and this was made. My shifts bearable now and that's worth every penny." It also comes in three other colors!! 
Amazon
2. Weston Women's Heated Coat
1 YEAR WARRANTY. This comes with a rechareable battery and gives you up to 8 hours of warmth! Made for weather that goes as low as -20 degrees. Damn. Great reviews as well.
Weston
3. ORORO Women's Slim Fit Heated Jacket with Battery Pack and Detachable Hood
This comes in a pink color too. One customer said, "I'm always cold and I absolutely hate being cold. I usually dread doing anything that takes me outside when the temps are below 65 and I avoid visiting my family in the midwest during the winter months. But this coat has me a little less sad that winter is coming.. I wore my jacket tonight using the heating function for the first time and I'm loving this thing so much."
Amazon
4. Weston Heated Fleece Jacket for Women
THIS IS 50% OFF! If you love fleece, this is a good option. I feel like it it's double the warmth with a fleece exterior haha.
Weston
5. Amazon Venustas Women's Heated Long Jacket with 90% Duck Down, 7.4V Battery Pack
If you want to keep you butt toasty, get this. It has great features such as 90% duck down feathers and a two-way zipper. One customer said, "I HATE being cold. Hate hate hate it. I keep my bedroom between 80-85F and sleep with heated blankets. Get at me. This was perfect for this amazing blizzard season in Tahoe. I went snowboarding and snowmobiling and didn't need a whole bunch of layers underneath. I also had heated gloves and socks that I'll also be reviewing, but this is definitely a must if you want to keep warm from extreme cold"
Amazon
6. Actionheat Women's Medium Black Softshell 5-Volt Heated Jacket
I had no idea home Depot sold clothing, but I'm here for it. This jacket comes with a super powerful ActionHeat 5V Power Bank 6000mAh. which can also charge your phone or tablet. It has three heating zones - front, back, and hoodie!
Home Depot
7. Venustas Women's Heated Jacket 7.4V
This has 5 heating panels, so you know you'll be warm af. It has a removable hoodie, and comes in sizes XS-4XL.  It also has the most amount of 5-star reviews among all the jackets so far. Not that temperatures are dropping make sure to check out these cozy his and hers matching pajamas.
Venustas
8. Milwaukee Women's 12V Lithium-Ion Cordless Gray Heated Jacket
Milwaukee jackets are supposed to be the most popular and best in the game. Comes in black too!
Home Depot
9. Venustas Women's Heated Fleece Vest with Battery Pack 7.4V, Lightweight
I know this is not a jacket, but it's cute to wear over a long sleeve turtleneck for when you want some warmth but not too much! This has good reviews too and is part of Amazon prime one-day!! 
Amazon
TECHNOLOGY AND FEATURES
Heated jackets have progressed so much over the past couple of years. They now have cutting-edge technologies and distinctive features to keep you warm while maintaining style. Take, for instance, the Amazon Dewbu Heated Jacket. With 400 people purchasing it just this month, it has a 12V battery pack and a lightweight electric heating coat. It doesn't overheat, as highlighted by a hospital worker who finds comfort without excessive warmth, making long shifts more bearable.
Looking further, Weston's Women's Heated Coat offers up to 8 hours of warmth, designed for temperatures plunging down to -20 degrees. Impressive.
If you're a fleece lover, Weston's Heated Fleece Jacket, currently 50% off, promises double the warmth with its fleece exterior. 
My favorite has to be the Venustas' Heated Long Jacket crafted with 90% duck down and a two-way zipper - you know you'll stay warm in this. A lot of ski and snowboarders love this jacket since it keeps their butt protected and warm if they fall down.
ActionHeat's Softshell 5-Volt Heated Jacket is ideal if you love hoodies. It has three heating zones covering the front, back, and hoodie areas. My favorite part is that it has a 5V Power Bank that not only warms you, but also doubles up as a power source for your devices. 
Finally, Amazon's Venustas Heated Vest, while not exactly a jacket, offers a snug layer over long-sleeved tops, so you'll stay warm without the bulk.
There are so many different options that carry extensive technology and features, which means you can't really go wrong. It all depends on where you're going, what the jacket is for, and your style preference! 
CARE AND MAINTENANCE
Alright, so keeping your heated jacket in tip-top condition is essential for staying warm when the chill sets in. Here's what you need to know.
Before doing laundry, remember to unplug your jacket from its power source. Most of these beauties are machine washable, but always play it safe by taking out the battery pack first. Stick to a gentle cycle and use a mild detergent. Just a heads-up, it's better to air dry it, skipping the tumble dryer to avoid any issues.
When your jacket's having a breather, store it in a cool, dry place. Before hibernation, ensure your battery pack has some juice left or at least half-charged. Keep your batteries charged now and then, even in the off-season, so they're ready to rock when you need your jacket again.
Periodically peek at your jacket for any loose wires or signs of wear. If it's looking worse for wear, give it a break and give the manufacturer a shout for guidance on repairs or replacements.
Keeping these care tips in mind will ensure your jacket stays cozy and functional for the long haul. Always refer to the manufacturer's specific care instructions to keep things smooth and snug.
RECOMMENDED BLOG POSTS
No matter which jacket catches your eye, you're on the right track. If you enjoyed this article, be sure to dive into these fantastic mini UGG dupes that'll match flawlessly with your new heated jackets.